Data Confident is a training program for CEOs and other executives tasked with leading organisations looking to invest in data, analytics, or AI. This comprehensive introduction to the field is based on more than a decade of my first-hand experiences. I want to make sure that organisations of any size can use data to be successful – to help them maximise the happiness of their employees and customers. After completing the training, participants can:
Understand the data, analytics, and AI landscape in practical terms
Start on their journey with a clear idea of what success looks like
Recognise the skills and behaviours that define data led organisations
Increase their chances of success while mitigating any risks
PREVIOUS PARTICIPANTS RATED THESE SESSIONS 4.92/5 ⭐
Every module consists of three distinct parts that each answer a key question.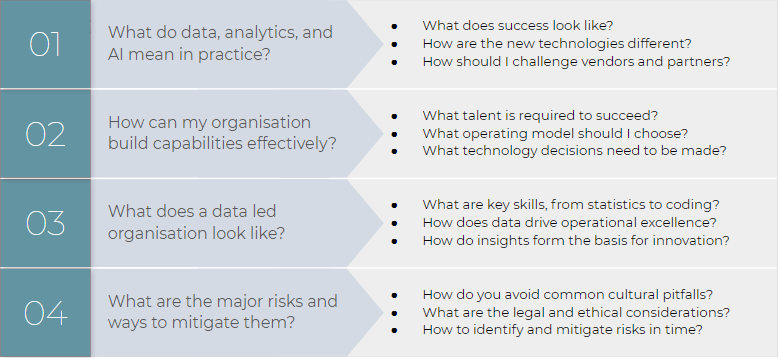 The training is run as four three-hour sessions on Friday mornings, spread over a period of four to six weeks. The course material includes presentations, discussions, and hands-on technical exercises. Due to the bespoke nature of the program, cohorts are limited to a maximum of five participants. To facilitate discussion, the aim is to have attendees occupy similar roles. Our next few cohorts will likely be for CEOs given the success of our first CEO training.
What have past participants said?
"You have made the very complicated, very simple. Excellent content, very thorough."
This was a good investment of time. Very, very, worthwhile. I've enjoyed every minute."
"The course title is absolutely bang on. You have given me the confidence to lead with data."
If you are interested in learning more, please get in touch using this form.
– Ryan